How To Mount Correx, Foamex and Acrylic Sign Boards – A Guide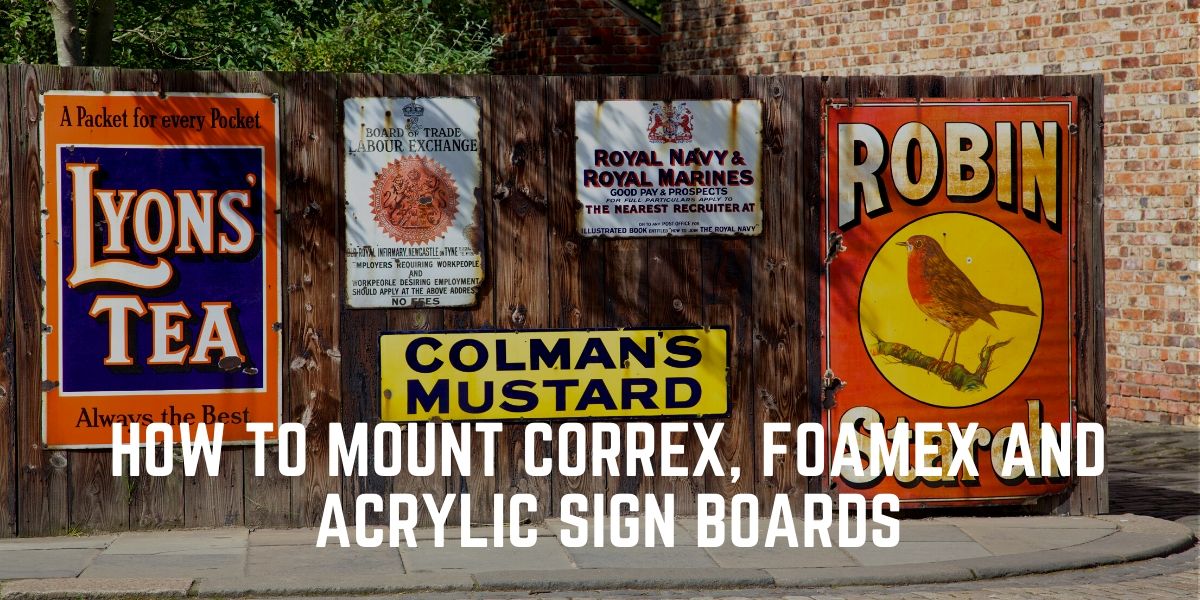 June 3, 2020
There are many different types of signages and each type has its own method of use. They use different materials that interact differently. This is why we have compiled this guide that will explain to you the different types of signs and how to mount them correctly.
If you have found your way to this article, then chances are that you are figuring out how to hang up signs for your business or service.
With so many different materials being used for signs how can one be sure that which material is right for them? And then the bigger question arises – how can you mount these signs?
This article will touch upon all these concerns and give you a detailed view of all the intricacies that may come with using different signs.
In this article, we are mainly dealing with three types of signs – Correx, Foamex, and Acrylic.
What are Correx boards and how to mount them?
Correx is a light polypropylene panel that is often used for signs because they can be printed and mounted easily. The fact that it is so light makes it a great material for signs.
Correx boards can be mounted in a variety of different ways – by drilling holes in them, by using tape, glue, or any other adhesive material.
You can also use a frame to mount these panels. Correx is an excellent material because it is also water-resistant, so you don't have to worry about rains.
When you drill holes in the sign with a drill machine, you can either string in a rope and hang it from a stand or a fence.
The position of the holes on the Correx sign will result in how the sign looks when it has been mounted. Cable ties and strings are mostly used when the holes are on top, and you plan on taking the sign off after an event or a few days.
When you use screws and bolts to mount the sign in place, then it is more of a long-term fixture. You can mount these signs on wales and wooden posts easily.
If you don't want to make permanent holes in your Correx sign, then you can go for alternate methods of mounting like glue and tape. Double-sided tape is a favourite because it is strong and does not leave any plastic residue on the front of the sign.
Velcro is also a great way of sticking these signs to surfaces, but you will need a surface that can stick to the velcro as well.
If you don't want to use any of these methods of sticking, these days you can also get stands that are a great way to display your sign. These stands can be folded up when not in use. With a stand, you can use this sign at many different places as well.
What are Foamex boards and how can you mount them?
Foamex essentially is the name of a brand, but the material itself is made when PVC foam is compressed. This compressed foam becomes a strong board that is then used to print signs on.
The reason why people love using Foamex for their signs is that it is a strong and sturdy material that is weatherproof and also cannot be altered by fluctuating temperatures.
It works very well with digital printing, and it is also lightweight. Another attractive feature is that it can be found in a variety of different colours as well.
Just like how there are different methods to mount Correx boards, Foamex boards can be mounted by drilling holes, using a stand to or by using some sort of adhesive. By drilling holes, you can fasten the sign with some string or cable ties, or even screw and bolt them into place.
The screwing and bolting make the signs more or a long-term fixture. If you don't want to use a drill machine and are looking for more non-invasive methods of mounting the sign, then you can use different types of tape (regular clear tape or double-sided tape).
Double-sided tape tends to be stronger. But once you use double-sided tape, taking it off can be a pain as it is very sticky tape.
If you don't want to deal with any of that headache, you can use velcro as well. Velcro is a forgiving adhesive and it lets you readjust the position of the sign over and over again.
If none of these work for you, then opt for a stand that can be used to display the sign. If you want to shift the sign, you can simply move the stand and voila! Your display is ready.
What are Acrylic signs and how can you mount them?
Acrylic is one more material that is used quite a lot for making signs. While it is heavier compared to Correx and Foamex, acrylic signs are still pretty lightweight and more sturdy than the other options.
Using acrylic signs for our business gives it a professional business touch, which will ultimately result in people taking you and your passion more seriously.
Since acrylic signs are often see-through, using double-sided tape can really mess with the whole aesthetic of the sign.
Acrylic signs are a better alternative to glass signs as they are durable and unbreakable. The fact that they are clear also makes it a very popular material for signs.
The most recommended and convenient way to display acrylic signs is by using a standoff. You will need to drill holes into the sign, but it is the most convenient way to mount acrylic signs.
For this, you would require a drill machine. If you find yourself to be intimidated by using a drill machine, don't be! It really is not as tricky as you may think it is.
If you are not comfortable with using it yourself, you can go to a hardware store and they can do it for you. Make sure you are present so that you can tell them where the holes need to be drilled because you don't want the holes to obstruct the logo of your company or mess up with the aesthetics of your sign.
Once the holes are drilled into the sign, you need to attach the anchor of the standoff to the surface you want to mount the sign on.
Make sure that it has been anchored in a secure fashion. Once that is done, you just need to screw the sign in place through the holes. Voila! You have successfully mounted your acrylic sign.
Standoffs are the most popular and recommended way to put up acrylic signs, but if you are unable to find these standoffs then you can simply screw or bolt these signs into place.
In conclusion, these three materials are the most popular ones used for making signs as they are cost-effective, durable and lightweight. Each of these signs has different ways they can be mounted, so make sure you research which methods works best for you!